About Us
Capital Resources, LLC was incorporated in 1996 by accomplished equipment leasing and finance professionals. Each of the company's senior executives have over twenty-five years of experience structuring funding programs for a wide variety of credits, industries, and equipment classes.
The company provides equipment financing alternatives to commercial bank loans. Regulatory considerations have become a much larger part of the credit process for banks. Applications for bank loans have become more complex, and require customers to provide more information. Unfortunately, the results have been fewer approvals or approvals with greater restrictions. Furthermore, bank loans typically require a down payment by customers, a blanket lien on other assets, and restrictive covenants that inhibit the ability for customers to borrow future funds.
Capital Resources currently develops equipment financing products and vendor leasing programs that simplify credit requirements, maximize flexibility, minimize restrictions, and provide for total cost financing. The results are simple applications with quick approvals at competitive rates.
Every funded contract is custom designed to increase the cash flow of our customers, thereby allowing them to obtain the maximum amount of equipment required to grow their business. Transactions range in cost from $20,000-$5,000,000.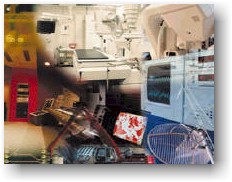 End-users select equipment from their favorite vendors, and we provide the financing. Our lease terms range from 12 to 84 months. We have various end of term purchase options that include one dollar and fair market value.
Capital Resources also designs vendor leasing programs for equipment manufacturers, distributors, and value-added resellers to help stimulate sales by providing equipment financing for their products. By providing a total equipment acquisition solution for their customers, our vendors are able to differentiate themselves from their competition, increase sales, reduce outstanding receivables, and decrease the sales cycle by eliminating the need for their customers to search for additional financing.
We go out of our way to make leasing simple and convenient. For example: We finance transactions under $75,000 through our three step small ticket easy lease program: 1) Select your equipment 2) Complete a simple one page equipment lease application 3) Authorize a straightforward lease agreement.
Long term relationships are important to us. We provide a personal style that is missing with many larger financing institutions. Our small business customers are just as important to us as our Fortune 500 clients. We finance all types of essential equipment. You will be pleasantly surprised how easy it is to do business with Capital Resources as compared to other equipment finance companies or equipment leasing brokers.